An electronic device dropped into water. That's one of those scary moments no one wants to face with their device.

It might have been an accident, someone did it on purpose, or whatever happened, and you find your AirPods dropped in water.

Don't worry. If your AirPods are not still floating in the water, you can save them.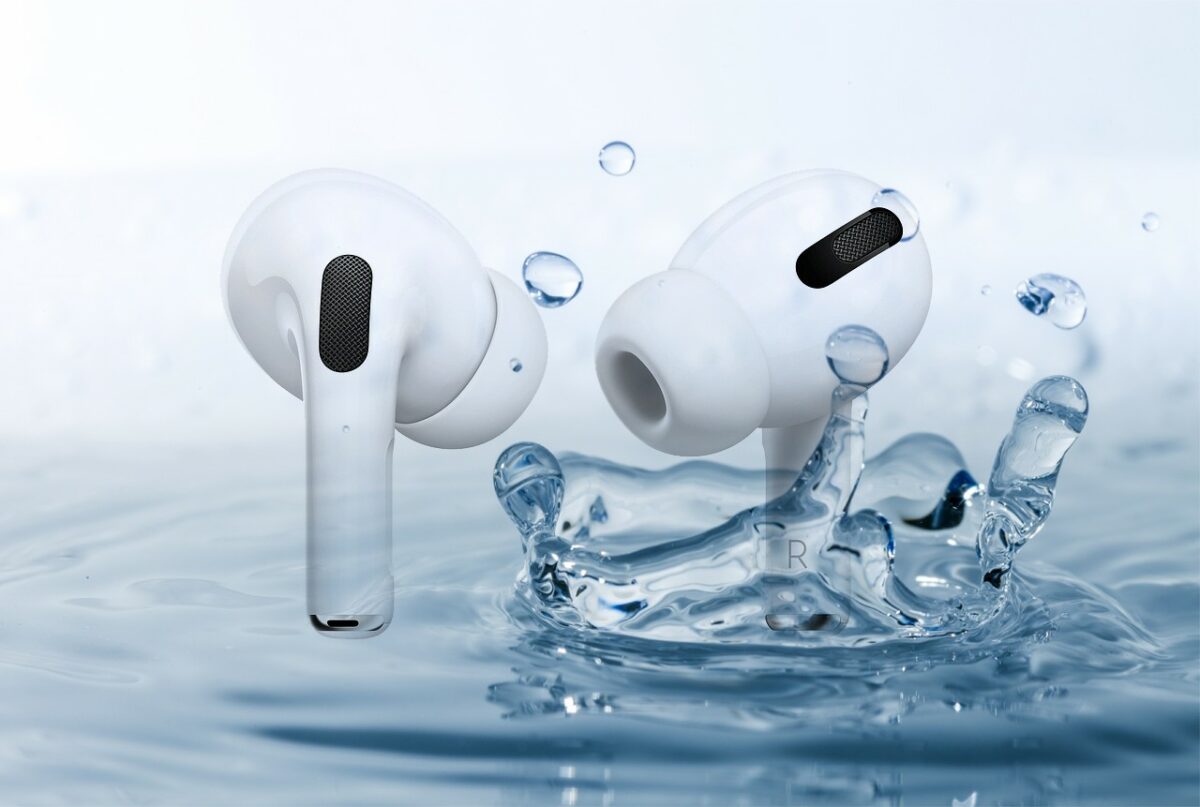 AirPods Dropped in Water – How to Save Them?
If your AirPods drop into the water, Apple recommends drying your earbuds and charging case with a microfiber cloth. Put them all upside down on the cloth while the charging case has to be face down and opened. Keep it drying for at least 4 hours, and then test them.
This guide will help you save your AirPods and show you how to prevent this situation from occurring again.
1. Are AirPods Waterproof?
No. Apple AirPods are not waterproof. However, they are water and sweat–resistant. That means they won't suffer from soft water or sweat contact, for example, during running or working out, but they won't survive the stay in your washing machine.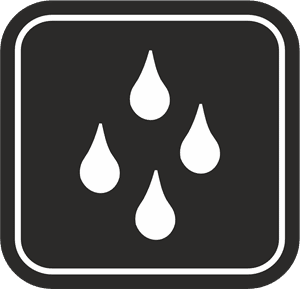 Light Contact With Water
If you have had a rainy walk, don't be scared – your AirPods will make it. The same applies to those people who are sweating hard while working out. Not a problem.
Apple designed AirPods in a way to get wet and to resist that often. You wear them on your head, exposing them to the elements. They have been designed for use while doing sports as well.

A little bit of moisture will not damage them.
Fully Under the Water
If your Apple AirPods submerged for just a few seconds, you might be in trouble.
Apple did not design AirPods to go under the water, so it might severely damage them, if not permanently.
When water gets inside your earbuds or charging case, it is over, most probably.
Drying your AirPods can only do a little as submerged AirPods will short circuit and might not be working entirely or lose some of the functionalities afterward.

If your AirPods dropped into the water, get them out as soon as possible – time is the key. The faster you act, the better your chances of saving them.

When you've reacted in less than 10 seconds, you should be fine and able to save your AirPods. However, anything above 15 seconds will have a catastrophic result.

Although I emphasized that enough, I will do it again: don't ever put your AirPods into the water or washing machine, nor clean them with water.
2. How to Dry AirPods Once they Drop into the Water
The task is straightforward: Dry them!

Drying your AirPods is similar to drying your phone a lot, but using a bowl of rice might have a negative result.

Even though it could help you dry out your AirPods, small grains might get into your AirPods which could harm them even more than they were before. And so leave that bowl of rice for your tomorrow's lunch.

Follow these steps to dry out your AirPods:
Get some microfiber cloth
Wipe your earbuds precisely
Wipe the charging case
Put them all upside down on the cloth while the charging case has to be face down and opened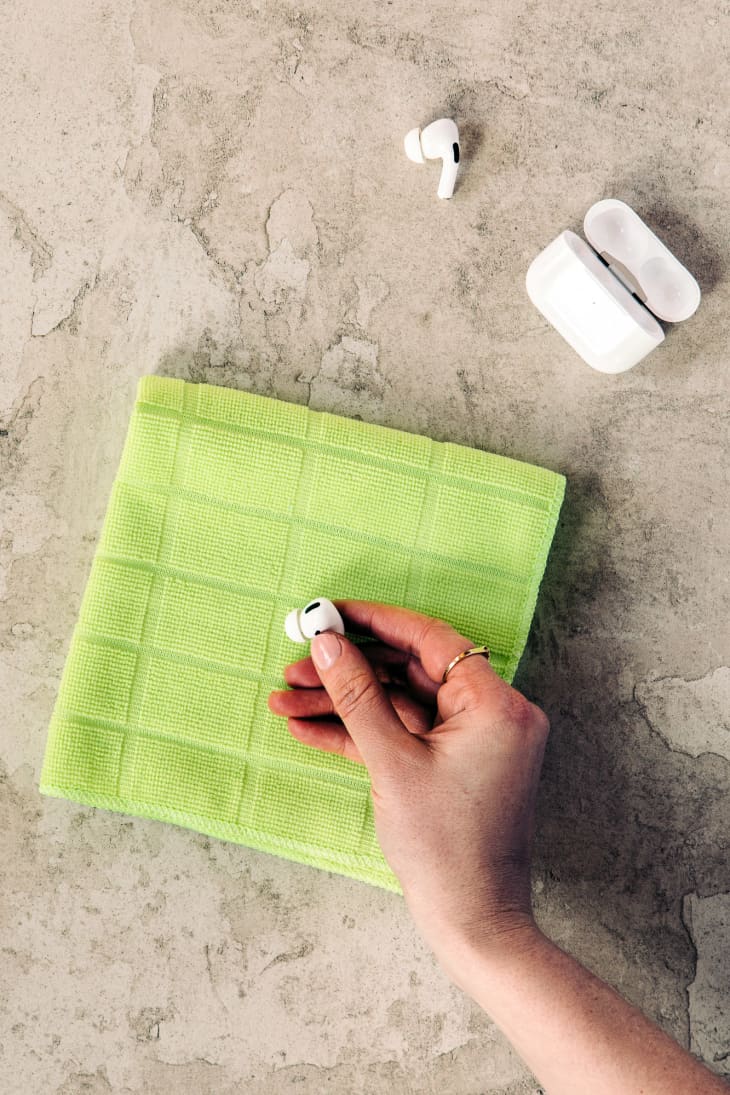 I recommend you wait 4 hours to let the AirPods dry entirely. Wait a bit longer if your AirPods were submerged longer than 15 seconds.
You can also use a bamboo charcoal packet, if you have any by your side, to put next to the AirPods. These small packets are great when soaking moisture from the AirPods and can have a small impact on your AirPods as they dry.
Even though their role is different, they will do a great job while soaking moisture.
3. Use air Waves to Eject Water from your AirPods
Another option to help here is to eject water from your AirPods using air waves. This step is very similar to the feature of the Apple Watch to release water from the device.

Connect your AirPods to any device, for example, iPhone, and play music and turn the volume up. Don't put them into your ears.

Download the Siri Shortcuts application and install it on your iPhone. Then, cover all the sensors on your AirPods and activate the Water Eject shortcut.

You will feel your AirPods vibrating, and the water should slowly start to get out. Feel free to repeat this step as many times as you need.


The bad news is that if your AirPods dry out and the Water Eject shortcut doesn't do your AirPods work, you'll have just one option – replace your AirPods.
4. Does Apple Care+ Cover Water Damage?
I bet you've already heard of Apple Care+ – an extended warranty from Apple.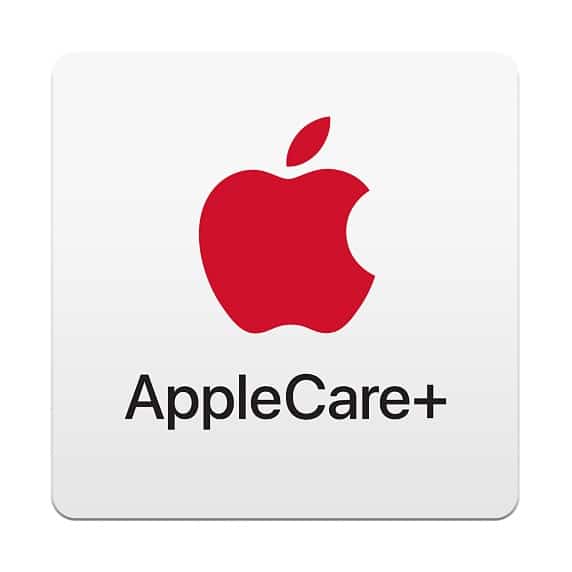 Of course, it covers more than just an additional one-year warranty. In addition, the service is available for an additional fee when you first buy your AirPods.
Apple Care+ covers many things, and accidental damage (water damage, heat, etc.) is one of them. However, this coverage is only accepted once a year. So if you are unlucky and got your AirPods wet twice in 12 months, you are out.

With an Apple Care+, you can get your AirPods replaced quickly. Of course, there is an additional service fee of 29$, but it's just incredible compared to the original price of AirPods. Isn't it?
5. Does the Standard Apple Warranty Covers Water Damage?
There is a simple answer, NO. Standard Apple warranty does not cover accidental damage to your AirPods (or any other device).

A standard warranty covers only problems that are the fault of Apple or any retailer you bought the device from, for example, a broken charging case out of the box.

Your only option to cover your AirPods, or any other devices, from accidental damage Apple Care+, is the answer.
6. Replace your AirPods
Now, let's face the truth that if none of the steps above helped you to fix the issue, you have a problem, and your AirPods broke utterly, meaning you might need to replace them.
In mid-September 2022, Apple released 2nd generation of Apple AirPods Pro and 3rd generation of AirPods back in October 2021.

As you know, new releases always bring some new features, like in this case:
Sweat and water resistance improvement
Spatial audio – theater-like sound
Longer battery life
Wireless charging (for the standard model, already in place for the Pro model)
Smaller redesigned earbuds
Adaptive EQ – feature which tunes the music to your ear's shape using the sensors
All of the features above are worth investing in the new AirPods model. In addition, the new model release brings new features or improvements, and this case might be an excellent excuse to buy the new model.
Also, with the new model release, the previous model gets cheaper, so it's a more affordable option for you.
How to Protect AirPods from Water Damage
We already gave you some advice on how to save your submerged AirPods. We are even better. Here are a few points on how to avoid water damage to your AirPods.

These three steps could help you extend the life of your AirPods and make it almost impossible to damage them by water.
1. Check your Pockets Before Doing Laundry
I hope this step is already part of your laundry routine, no matter what.

You never know what might be forgotten in the pockets of the jeans from the last week – wallet, phone, money, AirPods.

You can easily avoid any issues by simply checking your pockets. Always.
2. Buy a Water-Resistant AirPods Case
This tip is especially for you if you live in an area with increased humidity.
A fancy water-resistant AirPods case will keep them away from all the moisture and keep your AirPods brand new for a long time.
There are a lot of variants of AirPods cases which are cheap enough, and they also have the additional benefit of protecting your AirPods from physical damage – drops to the floor, scratches, etc.

This gadget is an excellent fit if you are always watching your AirPods and are scared of dropping them into water or on a hard surface.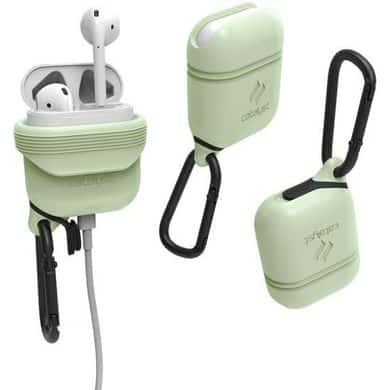 3. Clean your AirPods after Workouts
Cleaning your AirPods is the best advice to keep them serving you for a very long time. The sweat produced during working out can have a negative impact on your AirPods.

Invariably, after working out, take your AirPods and wipe both earbuds and charging case to eliminate any remaining sweat.

You don't have to do it precisely like in the case of dropping them off in the water since this is a preventive action only. However, make sure they are dry before putting them into the charging case.

Note: Apply the same process while using them in the rain.
To Sum Up …
You can face various accidents while using your AirPods, from dropping them on a hard surface to an accidental drop into the water. However, if you check all tips and guides on this page, there is a high chance you will resolve your problem with your submerged Apple AirPods.
Let's start with the most crucial step after dropping them into the water, dry them precisely following the guide above.
If your Apple AirPods are still facing an issue – and you followed all the steps on this page or in this article – you have only one option to replace your AirPods.