There are some essential questions or points you're checking yourself when leaving home. Points like do I have my phone, wallet, ID, etc.
I am sure it happened to you once in a lifetime that you've raised a question: "Where are my AirPods?".
When you've lost one single AirPod, you know it might be challenging to locate them.
This guide will familiarize you with the most common steps to find your lost AirPod with little effort.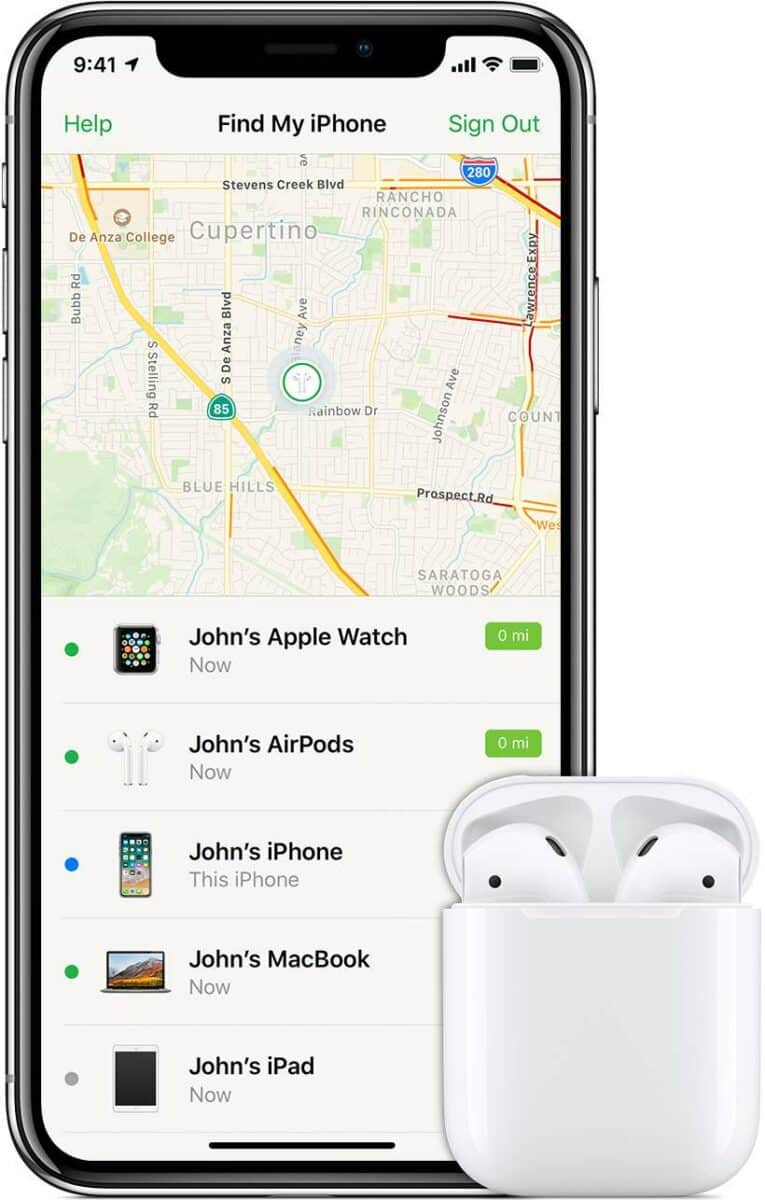 How to Find One Single AirPod?
Find My application is the best helper if your AirPod is out of the case and still charged. If your AirPod is dead, the Find My application can only provide the last known location of the AirPod when it's been online last time. You can make it easier by playing a sound on your AirPod.
This procedure will help you to either locate your lost AirPod directly or to get familiar with its last known location until it becomes dead/offline.
Don't worry. We will get you through the steps to locate your lost AirPod, replace them with another model, or buy just the missing one
However, don't expect any magic or top-secret steps here. If you've lost just one of your AirPods, there might be a high chance of not getting it back.
There are two easy ways you can go through, which we will take a look at below.
1. Use Find My Application to Locate your Missing AirPod
The Find My application is the most precise and accurate way to locate your lost Apple AirPods.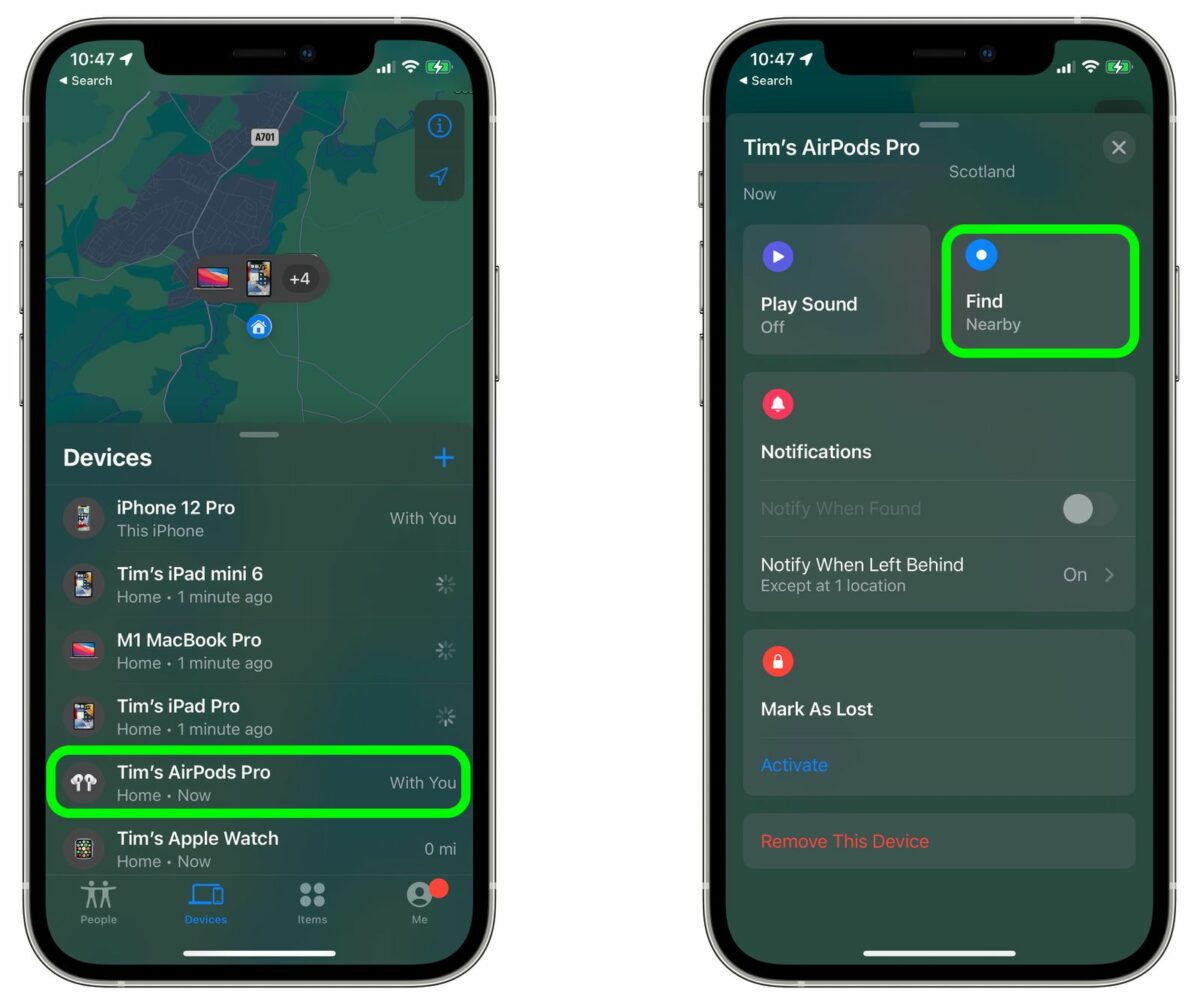 If you've lost one or both of your AirPods, the Find My application can locate them in a range of approximately 20 meters using GPS, and it's even more precise when using Bluetooth.
Remember that the application works the way to find online and enabled devices.
It works best only to find AirPods, which are separate, meaning they are not inside your charging case.
No worries, you can still locate your AirPods inside your charging case, but the Find My application will provide you only the last known location of your AirPods when you used them.
If your AirPods have enough battery and are within the 30-50ft range, you can also play sound to your AirPods to locate them more efficiently.
The application isn't pretty effective while your AirPods are dead. However, that's the most effective way nevertheless.
Start with opening the Find My application on your Apple device:
Tap on Devices in your Find My application
Find your AirPods in the list of devices that appears
When your AirPods are still in range of Bluetooth, they will show up on a map directly, and you'll have the option to play a sound to them now
Note: You can mute one of the AirPods by clicking on it to determine the location of the missing one quickly
While your AirPod is playing sound, try to determine its location
Check for more information on how to find your AirPods here.
AirPods are not in Bluetooth Range
If you know, that your Apple AirPods might be:
Dead – meaning out of battery
Not in the range of 150 feet from your location
Finding your AirPods if they are not in Bluetooth range will be tricky as the Find My application will not operate with the most accurate data.
As already mentioned, the Find My application provides only the last known location of your dead AirPods when you used them or they went offline, and it works best if you are located close to the AirPods.
Check the Find My application for the last known location, try to check or get back to the area, and if you are getting close to your AirPods, they might even connect to your device automatically so you can play the sound to them.
2. Limitations of Find My Application
As stated above, the Find My application is excellent and valuable for Apple users. However, it has some limitations we will get familiar with below.
Dead AirPods – when your AirPods go out of battery, the only information you can get is the Last Known Location, meaning the area where they were used for the last time when they went offline.
Disconnected AirPods – if you've turned off Bluetooth on your device before you lost your AirPods, so they got disconnected, you either won't see any data in the Find My application, or the data visible there will be highly inaccurate
Find My application not set – this is the most significant pain point for the users unaware of the functionality of the Find My application – it is not configured for all the devices by default. You have to set it up for every device you own, so you won't see any data if you haven't yet done it for your AirPods before.
3. How to Set up Find My Application
As mentioned above, the Find My application is not set for all your devices by default. Failing or forgetting to configure it will bring you to horrible times while tracking your lost AirPods.

Follow these steps to set up your Find My application:
Open Settings on your iPhone
Tap on your name
Select Find My
Choose Find my AirPods
Tap on the toggle switch to turn on Find My for your AirPods

Note: Repeat this step for all your Apple devices.
Follow the instructions here if the Find My option is greyed out.
4. Replace Missing AirPod without the Need to Buy a Whole Set
Now it's time to summarize your options if you were unsuccessful in finding your missing AirPod.
Even though many users have been lucky enough to find their missing AirPod, not every one of us had that luck.

Before being sad that you'd need to buy an entire set, you need to know there are ways to get just the missing one. For example, when you lose one or both of your AirPods (and you still have the charging case), or you've lost just the charging case, you can buy a replacement on the Apple website.

Approximate cost for single earbud:
70$ for standard AirPods
90$ for AirPods Pro
5. If you Decide to Buy a New Set
In mid-September 2022, Apple released 2nd generation of Apple AirPods Pro and 3rd generation of AirPods back in October 2021.

As you know, new releases always bring some new features, like in this case:
Sweat and water resistance improvement
Spatial audio – theater-like sound
Longer battery life
Wireless charging (for the standard model, already in place for the Pro model)
Smaller redesigned earbuds
Adaptive EQ – feature which tunes the music to your ear's shape using the sensors
All of the features above are worth investing in the new AirPods model. In addition, the new model release brings new features or improvements, and losing one of your earbuds might be a good excuse to buy the new model.

Also, with the new model release, the previous model gets cheaper, so it's a more affordable option for you.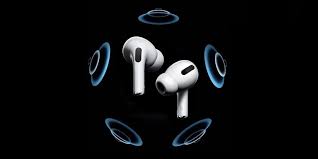 6. Will Apple Care+ Cover the Loss or Theft of your Apple AirPods
The answer is simple: No, it won't. There is no reason Apple would do that just because you've lost one of your AirPods or your whole set. It's your fault.

However, Apple Care+ for iPhone will pay also for the loss or theft if the coverage is activated.

So if your lose one or whole set of your AirPods, there is no warranty help coming from Apple.
To Sum Up …

Locating your lost Apple AirPods can be a tricky and challenging task, but possible as well. You need to rely on the Find My application as well as your memory to recall the last location you've seen or used them.
You need to be patient and invest some effort into finding them; I am sure you will be lucky in most cases.
If you have yet to find the lost device, consider the budget-friendly option for an Apple replacement to buy a missing component only.