If is your Samsung TV Netflix not working, go through this article and check useful tips to make it work again. These steps will save your day.
Samsung TV Netflix Not Working
If Netflix is not working, you must power/cycle your Samsung TV. Turn off the TV, unplug it from the socket and wait a whole minute. While waiting, press and hold the Samsung TV power button for 30 seconds. After a minute, plug Samsung TV back into a wall.

Voila, Samsung TV power/recycle is done. Enjoy Netflix app.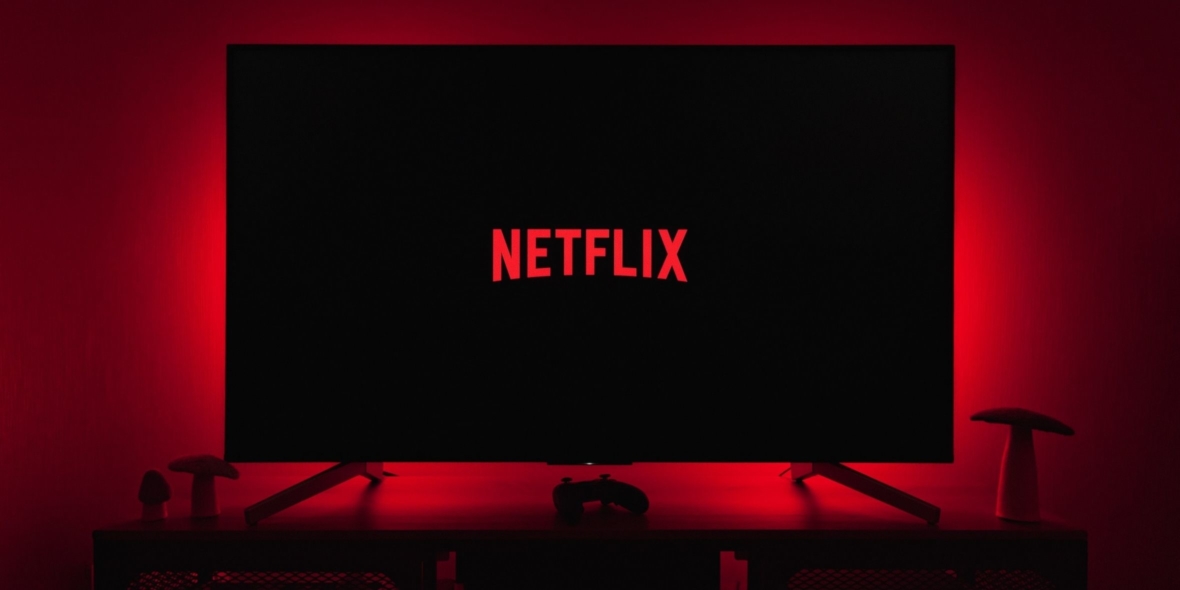 Netflix application issue Samsung TV
1. Netflix Servers Availability
This is not very possible to happen due to their stability, but just in case, continue reading.
You can simply check this using any other device in your home, like a phone, tablet, or PC. Or just give a call to a friend to check their location.
In case Netflix servers are experiencing any issues, their status is always available on their official page.

Netflix servers availability
2. Power-cycle Your Samsung TV
It is also a quick and useful tip for solving lots of issues. Follow these steps:
Unplug your TV from the wall plug.
Press and hold the Power Button for at least 60 seconds (doing this will ensure there is no voltage at all.)
Re-plug the TV back into the wall
Turn your TV on
Check if the application is working again.
3. Uninstall The Netflix App
Another quick fix for this situation can be applied, if previous failed to resolve the issue. Let's reinstall the Netflix application.
Turn Samsung TV on
Go to the home screen
Select Apps
Navigate into the top right corner, pick settings
Find the Netflix application
Click the arrow down on the remote and select remove. You will be asked if you are sure to remove Netflix. Confirm again. At some firmware versions, Netflix removal can be blocked, use Reinstall in this case.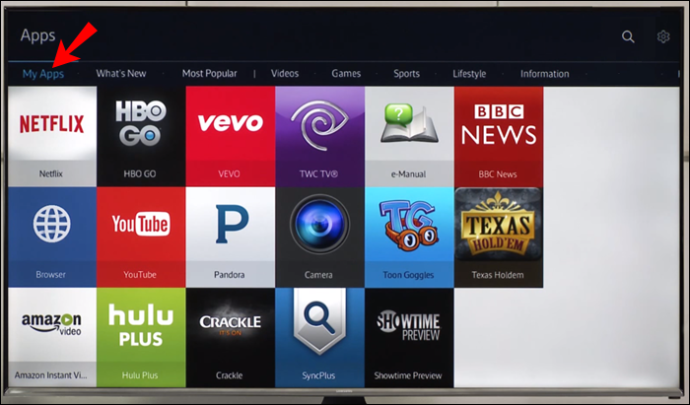 4. Install The Netflix App
Once you have uninstalled the app. We need to find it in the Samsung App Store, download it and install it again. Follow the steps below:
Press the Home button on your remote
Using the arrows to scroll, pick Apps
In the application list find the Netflix app, click on it
Click Install and wait until the download process and installation are done
Go to home and start the Netflix app
5. Check the Internet Connectivity
Yes, this can also be a cause of your issues. Poor network and high-quality video just don't make sense together. You can test this using another device in your home. Let's go and click on the speed test link.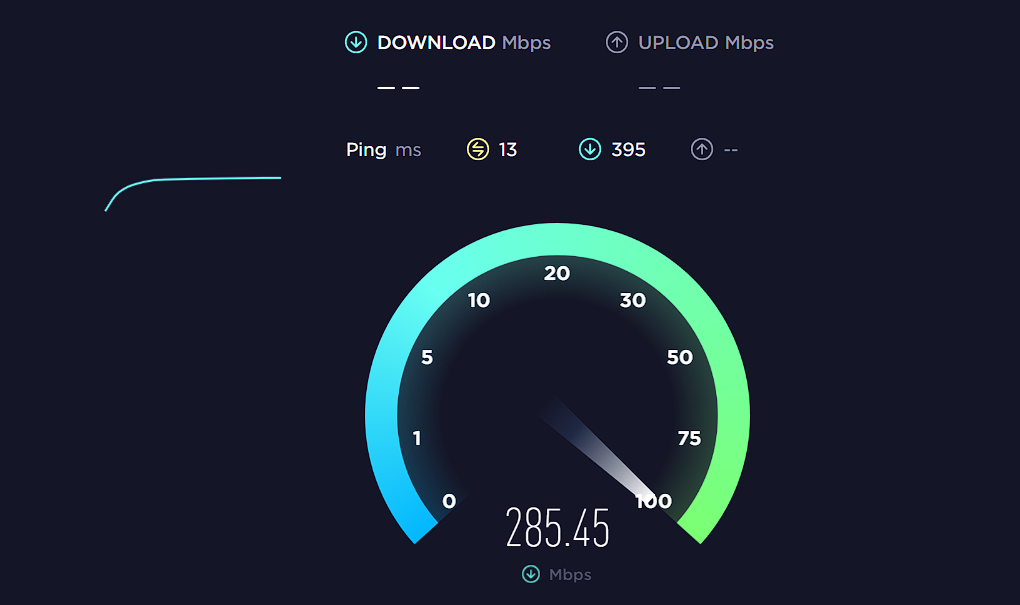 During the test, the most important factor is the Download speed, not the upload.

For smooth watching of video on Netflix, you need a speed of 25 to 50 Mbps in this test. You can get the video even a bit below but you will experience some lags or worse quality video below 25 Mbps.
If you are not getting at least 25 Mbps, you should consider the following:
You need to raise your internet program for the faster one. It will cost you more, but if you want to watch high-quality videos on Netflix, you can not dodge that.
There is a problem with the router, or TV is too far from it. Consider resetting it by unplugging it for 60 seconds and plugging it back. Let it boot up and test it with your mobile phone if the WiFi is working again.
If your router is older, consider buying a new one.
6. Update the Software On Your Samsung TV
Running up-to-date software is also important to maintain your Netflix app running smoothly. Follow these steps to update Samsung TV firmware.
Click the settings button on your remote
Using arrows navigate to All settings on the bottom.
Pick the tab General and find About this TV
Click Check for updates (allow automatic updates for future)
Restart TV
7. Factory Reset Samsung TV
This step will reset all your custom settings on your TV, but it can also resolve a lot of random behavior or buggy setting which can not be corrected other way.
Those are steps on how you can factory reset your Samsung TV:
Press the Settings button on your remote control
Go to support
Navigate to Self Diagnosis
Select Reset to Initial Settings
Confirm warning message with OK
This will erase all your personal settings on your TV and set everything to its original state.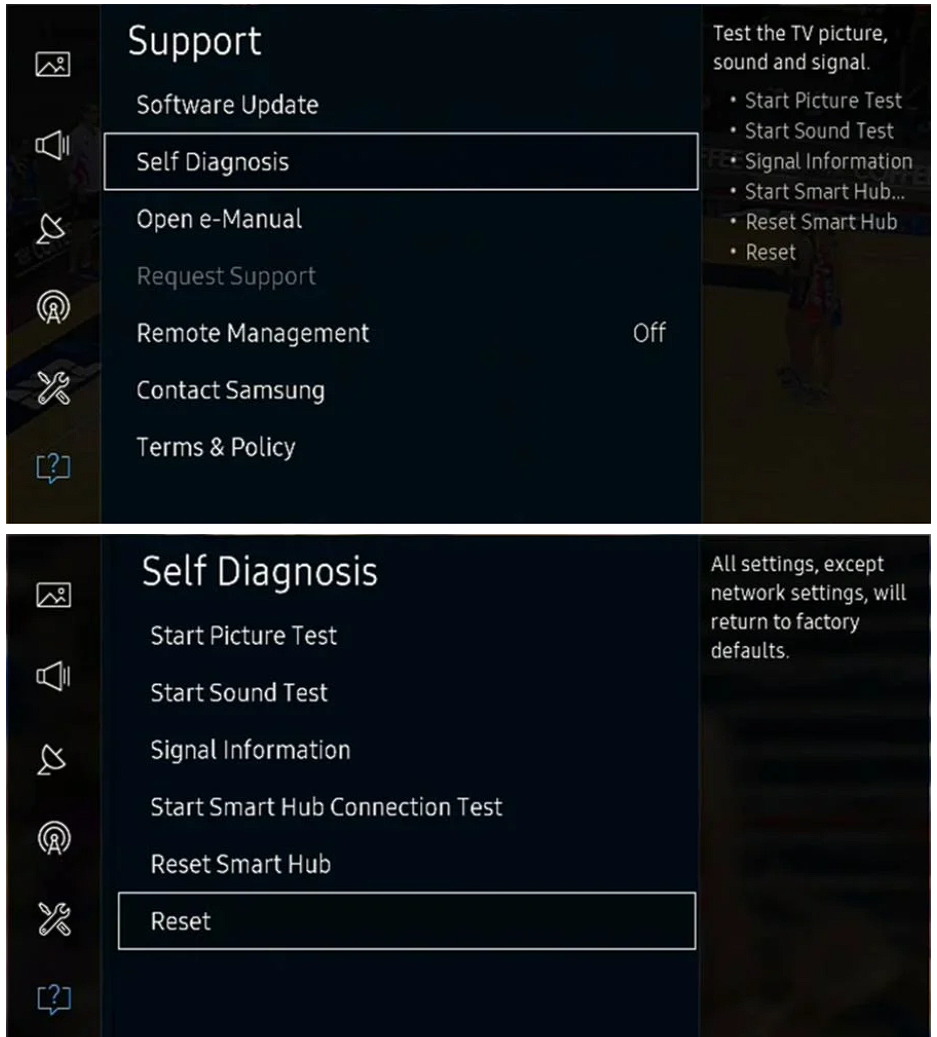 Thanks to those steps, your TV will go to default settings, and your TV will be basically in the same state as a brand-new TV.
8. Factory Reset Samsung TV without Remote Control
Many do not know that, but you can reset your Samsung TV to factory default settings without the original remote control unit.
The first thing you need to do here is to find a power button and try to press and hold it for at least 10 seconds. Some models will factory reset this way. If this does not help your Samsung TV model, then use a small joystick-like control on your TV to navigate the menu.
Once you have located your control buttons, power up your TV and follow the steps below:
Navigate to Menu
Go to Settings
Go to General
Select Reset
9. Contact Samsung TV Support
In rare cases when you cannot solve sound issues by following the tips above, you can always contact Samsung support.
In most cases, they can connect directly to your TV and help you remotely.
Samsung Premium Support support line is available 8 AM – 9 PM (EST) and 7 days a week for US customers.
To contact Samsung support, you need to call 1-800-243-0000 or 1-850-999-4934.
Once you are on the line with support, they will ask you for a remote management PIN so that they can reach your TV.
You can prepare this PIN before the call to speed things up.
Following is a guide on how you can find a support PIN on your Samsung TV with WebOS 5.0 (models 2020 and newer):
Press the Settings button on your remote control
Go to All Settings
Go to Customer Support
Go to Quick Help
Select Samsung Remote Service
Agree with the Service Agreement
The PIN will show up on your TV screen
Following is a guide on how you can find a support PIN on your Samsung TV with WebOS 4.5 (models 2019 and older):
Press the Settings button on your remote control
Go to All Settings
Go to General
Go to Customer Service or About this TV (differ on different models)
Go to Quick Help
Select Samsung Remote Service
Agree with the Service Agreement
The PIN will show up on your TV screen
Following is a guide on how you can find a support PIN on your Samsung TV with WebOS 4.0 (models 2018 and older):
Press the Settings button on your remote control
Go to All Settings
Go to General
Go to Customer Support or About this TV (differ on different models)
Select Samsung Remote Service
Agree with the Service Agreement
The PIN will show up on your TV screen
To Sum Up