LG TV AirPlay won't work for various reasons, and all supported models with AirPlay can be affected by this issue sooner or later.
If your TV experience this issue, it can be pretty frustrating, especially if you own a new model or your TV has served you well for a long time.
Do not worry; there are easy tricks you can do to solve those issues on your own, and based on feedback from other people, those steps can fix more than 86% of LG TVs for which AirPlay is not working correctly.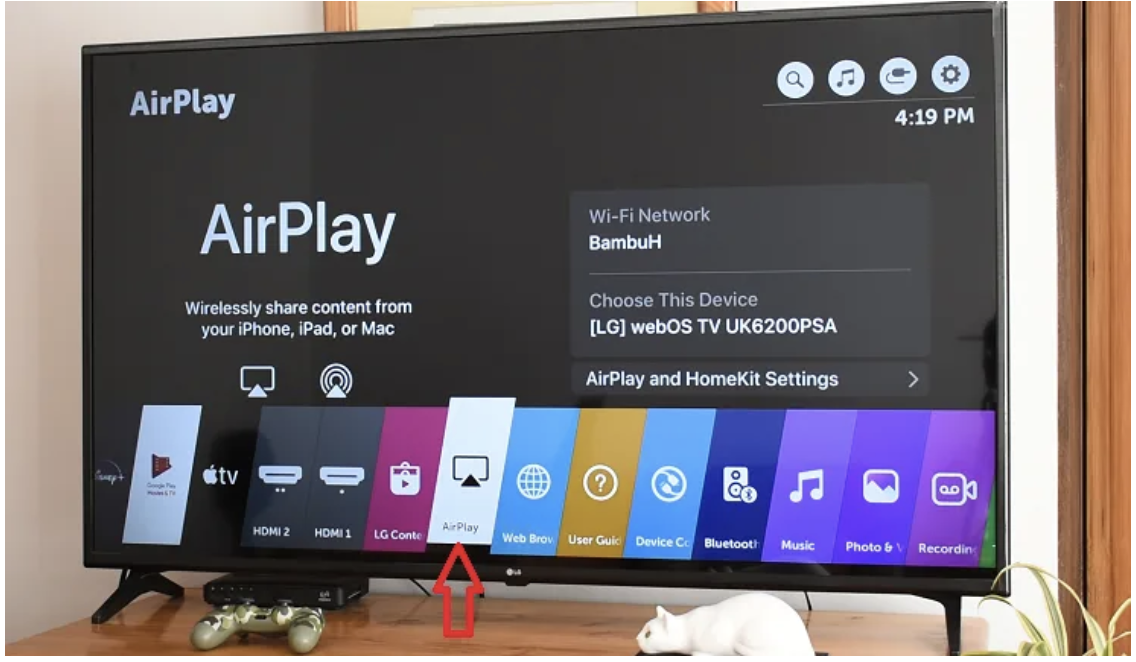 LG TV AirPlay Not Working – How to Fix it?
If your LG TV's AirPlay is not working correctly, perform the following steps: Restart your LG TV, make sure that your Apple Device and LG TV are on the same WiFi network, enable AirPlay, disable Firewall, update LG TV OS, use LG TV remote instead of the app, reboot your router, reset paired devices and perform a factory reset.
It could be possible that your LG TV might not support AirPlay technology. This is, in most cases, related to the older LG TV models. If that's not the case, follow the steps below.
1. Restart your LG TV
Even if you have already tried to unplug your TV, ensure you follow the exact procedure. Without proper steps, this easiest step does not have to work, and your LG TV won't turn on.
Make sure you identified the correct cable which is coming from your TV. With TV, many other devices are plugged into the same socket or power cord, and you need to make sure you are disconnecting the correct cable.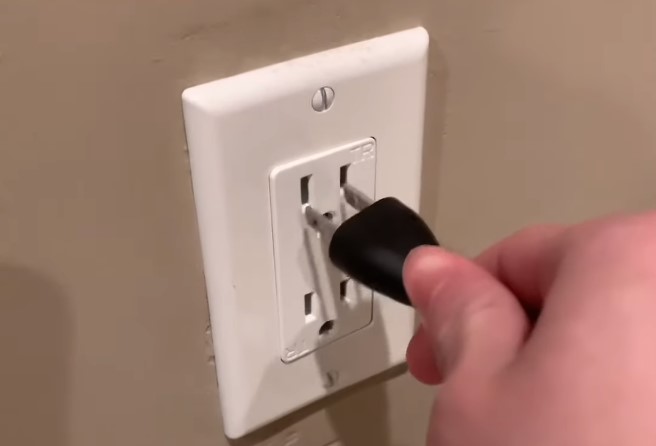 Once TV is disconnected, wait at least 60 seconds; in the meantime, you can search for the power button. Once 60 seconds are up, you can press and hold the power button for 30 seconds.
This procedure will ensure that all residual energy in your TV is gone and all parts of the TV are properly turned off.
Once you complete both steps, you can plug your TV back into the socket, turn on the TV, and Apple AirPlay should be working again.
If you belong to a small group of people for which this procedure did not resolve the issue thoroughly, check the other fixes below.
2. Check if the Devices are Connected to the Same Network
You can make AirPlay working only for the devices, which are connected to the same network.
Almost all new routers now have a feature called dual-band, which allows you to create two separate networks (either the 2.4 GHz or 5.0 GHz network)
Having two separate networks will increase your network stability and speed for the devices that support the higher frequency.
However, one of your devices may be connected to a 2.4 GHz network while the other is connected to a 5.0 GHz network – therefore, the condition of being connected to the same network is not met.
It takes less time to thoroughly double–check that your devices are on the same network with the same name.
To check the WiFi connection on your LG TV, open the gear icon and scroll to the network.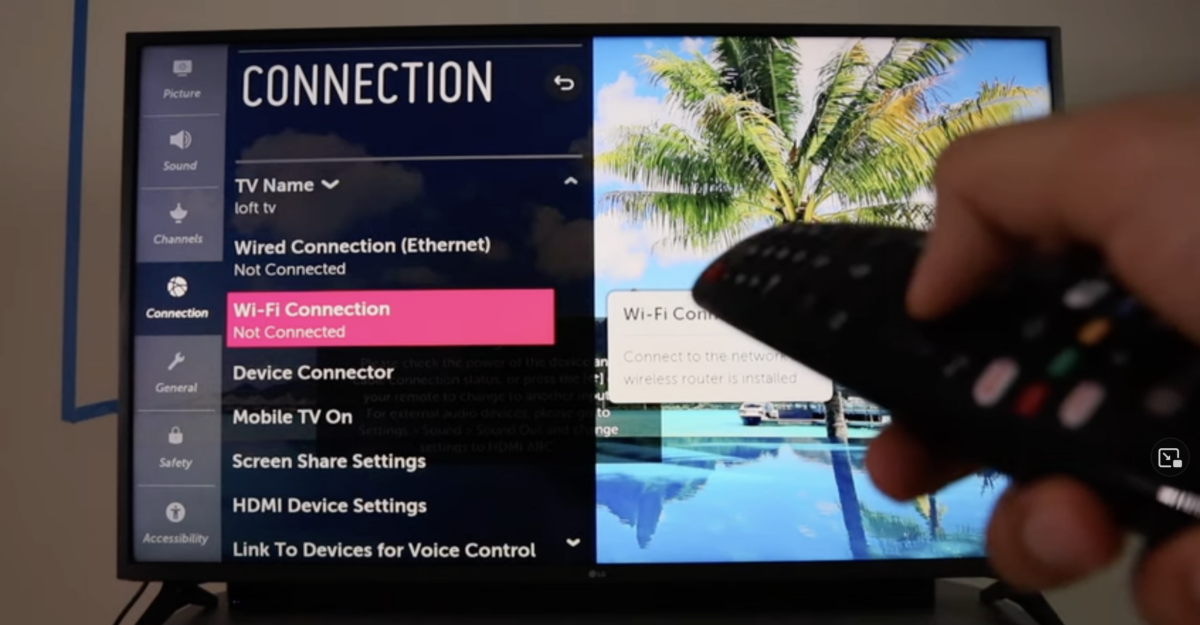 If following the steps above didn't fix the issue, please continue further.
3. Check if LG TV AirPlay is Enabled
It could happen that AirPlay is disabled on your device.
To check AirPlay enablement, press the HOME button on your LG TV remote controller, and at the bottom of the menu, select "Home Dashboard."
Press the UP button on your remote controller and toggle over to:
AirPlay
AirPlay and HomeKit Settings
As the last step, check if your AirPlay is enabled on your LG TV.
NOTE: when you can't see the AirPlay option on your LG TV, you will need to perform a software update on your device.
4. Turn of Firewall on your Computer
If the firewall is enabled on the computer, it could affect connectivity to the other devices within the network.
In the case of the AirPlay function, enabled firewall protection on your macOS (iOS) device might lead to your hosting device being unable to connect to your LG TV.
In this scenario, you must disable firewall protection altogether or disable incoming connection traffic on your macOS (iOS) device.
To check your firewall configuration, go to:
System Preferences
Security and Privacy
click on the firewall tab
You'll find the option to turn off the firewall entirely or to uncheck the option of blocking incoming connections.
5. Update LG TV OS/Software
You could run into several issues if your LG TV OS is not up to date. Therefore, it's always recommended to keep your OS updated where applicable.
It's possible to set it to download and install the updates automatically if your LG TV is connected to the internet.
Check automatic updates by following the steps below:
Press the Home/Start button on your remote
Select Settings
Choose All Settings
Select General
Go down to About this TV
Ensure that Automatic updates are checked. You can also Check for updates here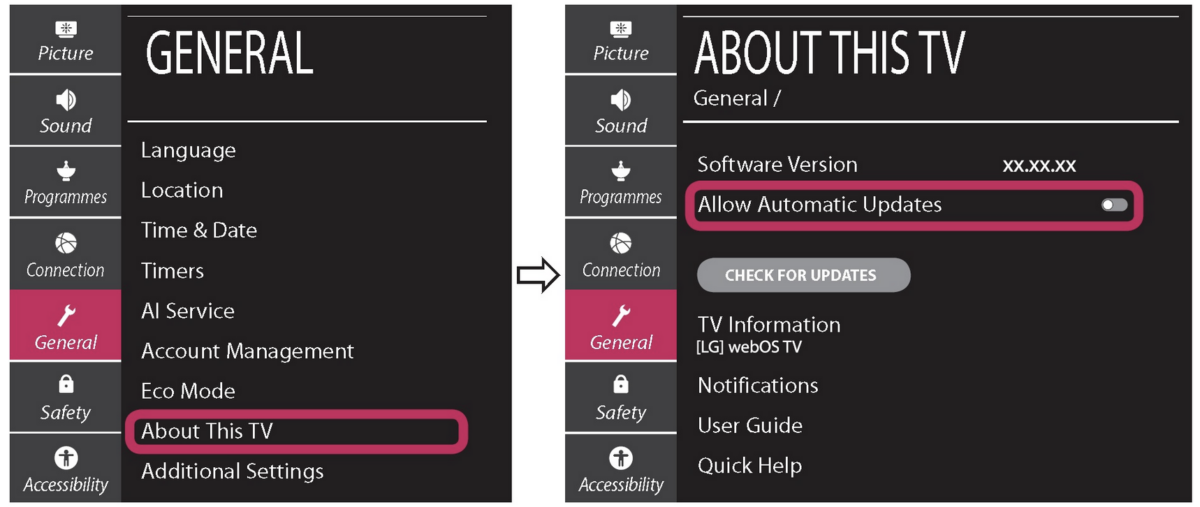 Sometimes, an automatic update may get frozen while running outdated software on your LG TV device.
To update the OS manually, follow these steps:
Find the applicable Product Support Page
Download the file and unzip it (right click – extract all)
Copy the file to the USB

Create a folder in your USB root folder named "LG_DTV"
Copy the files you've downloaded into this folder
The format of the files should be ".EPK"

InserttheUSB drive into the port on your TV

Follow the instructions visible on the screen
It's also recommended to check the updates on your Apple device and update it if applicable.
6. Do not use your Mobile Phone as a Remote Controller
Most LG TVs will allow you to use your mobile phone as a controller while using a specific application.
Some users faced an issue with AirPlay functionality while controlling the LG TV using the LG ThinQ app simultaneously.
Use your original remote for the configuration while struggling with AirPlay connectivity.
Another piece of advice, close your LG ThinQ application and re-check AirPlay connectivity again.
7. Restart your WiFi Router
There might be a problem with your WiFi router, even if you have not noticed any issues.
I highly recommend you perform a quick restart of your WiFi router.
Disconnect your router from the socket or power cord, wait for about 60 seconds and plug the device back. Your LG TV and Apple device will reconnect to the network automatically in a while. Once done, recheck your AirPlay functionality.
Since you are modifying your network configuration, consider resetting network connection configuration on your Apple device. To do so, follow these steps:
Go to Settings
General
Transfer or Reset
Reset
Reset network settings
8. Reset Paired Devices
We will try one of the last options to reset your paired devices.
To reset your paired devices, press the HOME button on your LG TV remote controller, and at the bottom of the menu, select "Home Dashboard".
Press the UP button on your remote controller and toggle over to:
AirPlay
AirPlay and HomeKit Settings
Choose Require code option and scroll down to the Reset Paired Devices option.
By doing this, all the devices connected to your LG TV will be forgotten, and you'll need to reconnect them again.
9. Factory Reset your LG TV
If all others fail, the last option is to perform a factory reset of your LG TV. Remember that a factory reset will remove all your configuration changes and all the updates, and you'd need to install them again.
Try all the other options first since, while performing a factory reset, you must install all the applications and log into them again.
Factory reset:
Power on your LG TV
Click the gear icon on top of your remote controller
Go down to All settings (Advanced settings)
Go to General
Choose the option Reset to Initial Settings
Your TV will now turn off and on again, and you will see the initial setup screen on your display
Following the steps above, your TV has the same configuration as it had on the day you bought it.
Factory Reset your LG TV without Remote Controller
If there is any reason you don't have access to your LG TV's remote controller, don't worry. There is an easy way to perform a factory reset of your LG TV without needing a controller.
To do so, locate your TV's power button. The power button's location depends on your specific model, but it can be found on the left/right-hand side or very bottom of your LG TV.
While TV is turned on, press and hold the power button for approx. 10 seconds.
If this step didn't work, use the buttons located near the power button and navigate to:
Menu
All Settings
General
Reset to Initial Settings
If you are facing an issue finding these buttons or your TV is mounted on a high/tight spot, follow the step below:
Give it a try by plugging in a USB keyboard directly into the USB port located on your TV.
Use any universal remote controller you have at home while entering the correct LG code for the remote to get it working.

You can now use them both to control your LG TV and to perform factory reset.
10. Your LG TV is not Compatible with AirPlay
Sometimes, when your LG TV is too old, it does not support AirPlay technology even with the latest SW upgrades. Anyway, AirPlay is available on the majority of the most recent LG TVs:
LG OLED (2018, 2019, 2020)
LG SuperUHD SK 9, 8 series (2018)
LG UHD UK 62 series or above, UK 7 series (2018)
LG NanoCell NANO 9, 8 series (2020)
LG UHD UN 8 series (2020)
LG UHD UN 71 series or above (2020)
LG NanoCell SM 9, 8 series (2019)
LG UHD UM 7, 6 series (2019)
If you don't see the AirPlay option in your LG TV's settings, it could be caused by your TV not supporting AirPlay.
Check the vendor's websites for your specific model to see more details.
To Sum Up …
Like any other electronic, LG TV can face some issues with AirPlay not working. However, if you check all tips and guides on this page, there is a high chance you resolved your problem with LG TV.
It's a good idea to start with the easiest step, unplug your device from the power cord or socket. That will restart your TV, which is the root cause of the issue in most cases.
If your TV is still facing an issue using AirPlay or doesn't see the option correctly – and it should be supported based on your research, you should look for an expert to help you in this area.
With some older models, buying a new TV can be a great idea. With a new TV, you can get significantly better value, including a full warranty, for a slightly higher price.
If your TV is new, check if you still have a warranty on your device and use that if possible.